Any artist can apply to be an artmoney artist
Follow the 3 steps:
1.       1. Fill out the application form and press SUBMIT:  http://www.art-money.org/artmoney_artist_signup
2.       2. Send one artmoney to: Krpr. Sofies Vej 7, 3th. / 2000 Frederiksberg / Denmark
/ Att: artmoney
3.       3. If your artmoney is accepted, your profile will be activated. You can then enter and edit your profile, and produce your own artmoney to be spend, sold, exhibited or exchanged.
NB: Application and participation is free of charge and you are welcome to apply again if your
artmoney is not accepted. The application artmoney is the property of the
artmoney project and is not returned to the artist.  
How to create an artmoney: 
Please read and understand the seven rules, before making your first artmoney:

7 rules
1. only registered artmoney artists can issue artmoney
2. artmoney must hold the measure 12x18 cm (4 3/4 x 7 inch) and CLEARLY state year of production, serial number, land, artist name, signature and WWW.ARTMONEY.ORG  
3. artmoney must be original, hand made art. In case of photo, print or graphics it must be worked over by hand
4. artmoney holds a steady value of Danish Kroner 200 (approx. 27 Euro or 34 US Dollars). The value is set from the central office, and may increase with inflation
5. artmoney can be used as a currency world wide at registered artmoney shops or anywhere that acceptance is found
6. every artmoney artist must accept artmoney as payment up to 50%
7. artmoney is not to be exchanged back into regular money
Example on correct artmoney info: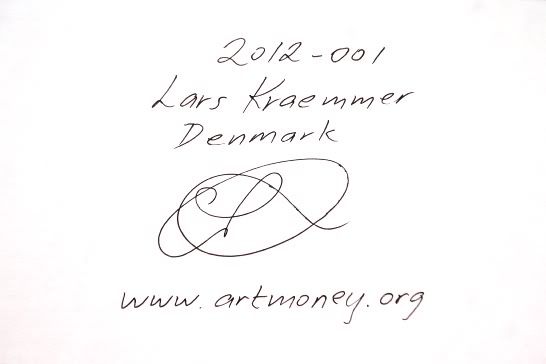 Material: any material may be used as long as it can stand handling without breaking or staining. Artmoney must be original, hand made art. In the case of photo, print etc. please work it ower by hand! 
Size: artmoney must measure 12x18 cm (4 3/4 x 7 inches).
This information must figure on each bill: Artmoney web site address (www.artmoney.org), serial number (001, 002, 003...etc. beginning with 001 again at the beginning of a new year), year of production, artist nationality, artist full name (clearly to be read), and artist original signature (it is recommended to use a blue ball pen for the signature). Please make the information clear and simple.